New Routes Network Overview
New RTA Bus Routes Coming September 2022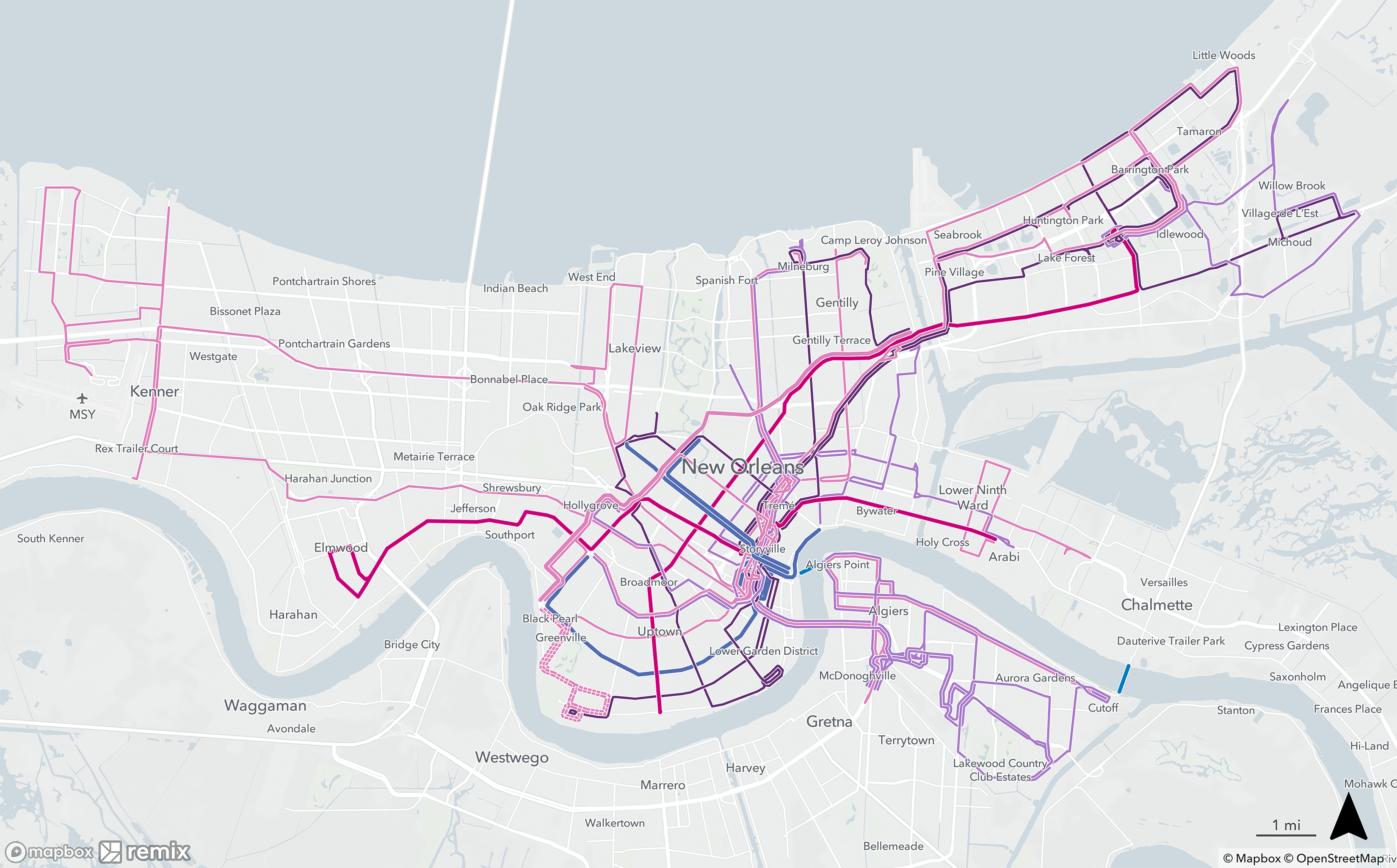 Click to Preview the New Links Network Map
New Routes - September 25th
On September 25th, 2022, we're improving RTA bus service for riders. The upgrade of the entire RTA bus network will connect more riders to more of the places they need to go more quickly. Almost every route in the bus network will change in the New Links network. These changes come directly from what riders told us during the 2018 - 2021 New Links public planning process. We're excited to deliver a better bus network to our riders and the New Orleans area.
Preview the route changes to the bus network on our online viewer HERE.
---
Why the New Routes
With RTA's New Links Bus Network, riders can expect:
Better access to jobs and major destinations

– Our updated bus routes will now reach more job centers, parks, and other popular destinations, including libraries, healthcare centers and grocery stores.

Shorter waits

– More buses will run more often along key routes, which means shorter wait times at bus stops. Instead of an hour wait between one bus and the next, on new high-frequency routes, the next bus will, in most cases, be just 15 minutes away!

More all-day, weekend, and late-night service

– More routes will run later and throughout the weekend, so going home after a night shift or visiting friends will be easier.

More connections and quicker transfers

– Many new routes will meet at transfer points and hubs throughout the network, offering more route choices and destinations from wherever you start your journey. And because buses will arrive more frequently, that means less time waiting for your transfer.
---
Why are the routes changing?
Riders and stakeholders have long asked that the RTA review its bus routes and make changes to serve our residents better. It's also best practice for transit agencies like the RTA to regularly review and update the service we provide. In our case, RTA's network hasn't been meaningfully updated since 2004, and much has changed across New Orleans and the region since then. In recent years, significant gaps have grown between where riders live, where they work, and where we provide service. New Links closes many of these gaps so we can better serve riders.
Specific changes to bus routes come from what riders said they needed during the 2018-2021 New Links planning process. Over 3,000 riders participated and expressed their priorities for changes to the bus network.
Through the New Links outreach, riders said they wanted:
More frequent service
Expanded service hours
Shorter trips, even with transfers
More direct trips, even if it requires a farther walk to their stop
More reliable bus service
New Links routes and service changes coming in September directly reflect these priorities and optimize RTA's existing resources to improve access for riders and residents across the city.
Read more answers to Frequently Asked Questions here.
---
When will I be able to learn more?
We're working hard to prepare for the route changes over the next few months. Beginning in July, we'll be out in the community sharing information and take-home materials for riders, employers, students, and family members to understand what's changing in the New Links bus network.
We will update norta.com/newlinks with all the changes to routes, stops, schedules, and more information about what you can expect during the New Links implementation.
July 2022 - Route changes will become available
August 2022 - Stop & Schedule changes will become available
September 2022 - Trip-planning tool will become available for the New Links network
September 25th, 2022 - New Links route changes go into effect