Current Projects
RTA has projects underway and is planning for future projects. Learn more about RTA's current projects.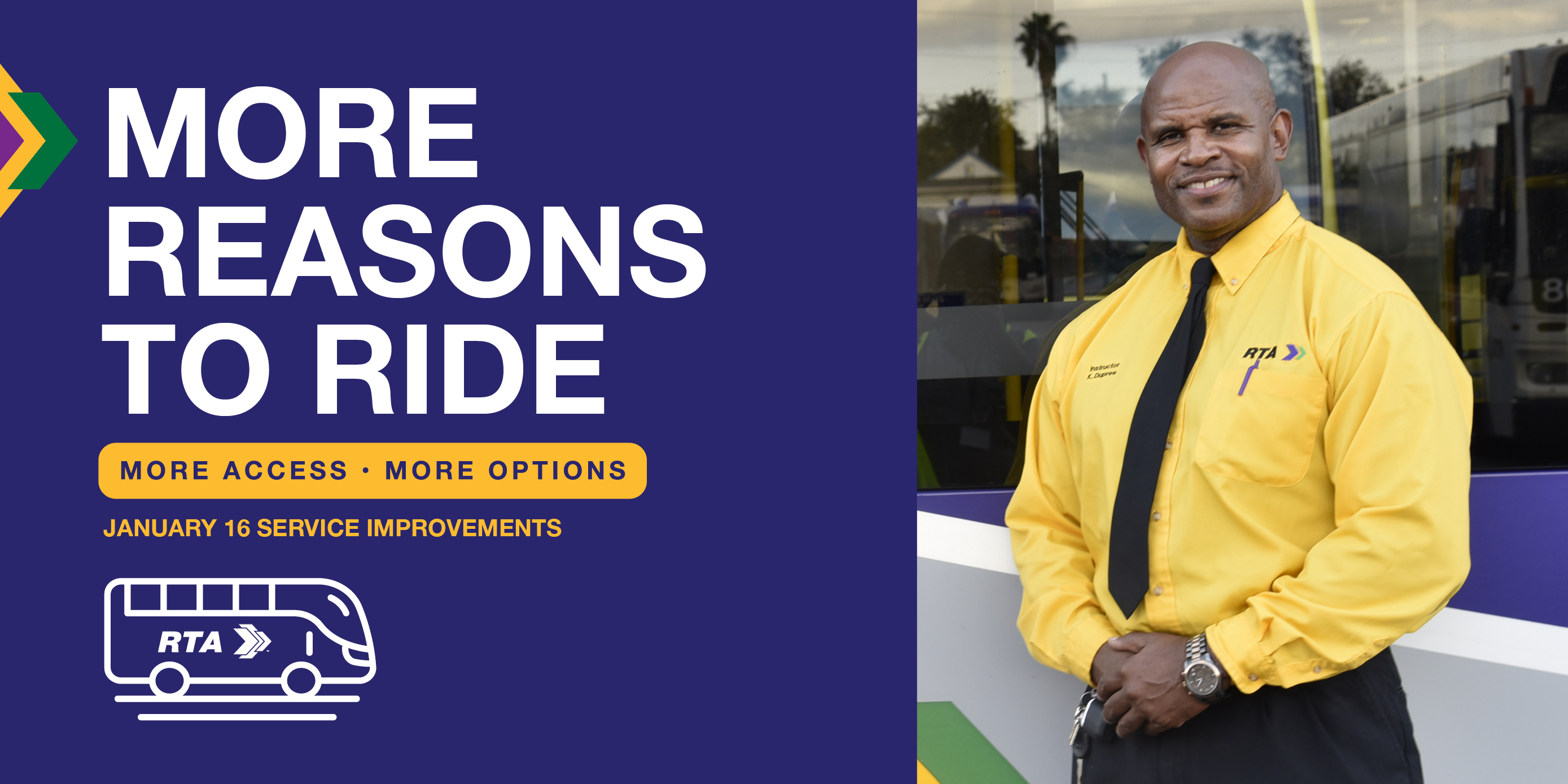 January 2022 Service Improvements
More Access. More Options. More Reasons to Ride.
Coming January 16
Introducing the NEW 86 – St. Maurice–Arabi line, the reopening of Riverfront streetcar from French Market to Canal Street, and more service enhancements! All starting on January 16!
Beginning January 16, 2022, the RTA is introducing schedule adjustments to almost every line to improve reliability, and some lines will have route changes to increase safety and address long-standing detours.

Additionally, the brand-new 86 – St. Maurice-Arabi line will service the Lower Ninth Ward, providing neighborhood circulation and connecting residents to the commercial center in Arabi. As a result, the 84 – Galvez line will no longer service Caffin Street and Tupelo Street, which will instead be picked up by the 86 – St. Maurice-Arabi service, and all routes serving the Lower Ninth Ward will have a new outbound terminus location at St. Claude Avenue and Mehle Street, in front of the St. Claude Art Center.

View the new schedules here.

Service will also resume on 49 – Riverfront streetcar from French Market to Canal Street. This expanded route will run between the French Market and Union Passenger Terminal. The route will travel from the French Market along the riverfront, continue on Canal Street, and then take Loyola Ave. to the Union Passenger Terminal.
RTA is adopting a new permanent fare structure with the goal of offering financial relief to passengers as the economy recovers from the COVID-19 pandemic. This fare structure includes not only the new youth and senior passes and the reduction of the 31-Day Jazzy Pass from $55 to $45, but also the addition of a 7-Day Jazzy Pass at $15 and a 3-Day Jazzy Pass at $8.
| | | |
| --- | --- | --- |
| Fare Type | Bus, Streetcar & Ferry | Bus & Streetcar |
| 1-Day Jazzy Pass | $3.00 | |
| 1-Day Senior Pass | $0.80 | |
| 1-Day Youth Pass | $1.00 | |
| 3-Day Jazzy Pass New * | $8.00 | |
| 7-Day Jazzy Pass New * | $15.00 | |
| 31-Day Jazzy Pass | $45.00 | |
| 31-Day Senior Pass | $14.00 | |
| 31-Day Youth Pass | $18.00 | |
| Single-Ride** | | $1.25 |
| Single-Ride Senior** | | $0.40 |
| Single-Ride Youth** | | $0.50 |
| Regional Ride | | $6.00 |
| Children 5 and Younger | FREE | FREE |
* Currently only available on GoMobile
** Single ride fares includes two hour transfer and Express Service
Along with the return of service that had been reduced at the height of the pandemic, riders will also begin to experience service changes which they helped develop through the yearlong study, community outreaches and surveys conducted under the New Links Project.
These service changes come as the agency's first implementation of the New Links network redesign recommendations. The New Links Project's aim is to provide better transit connectivity throughout the region.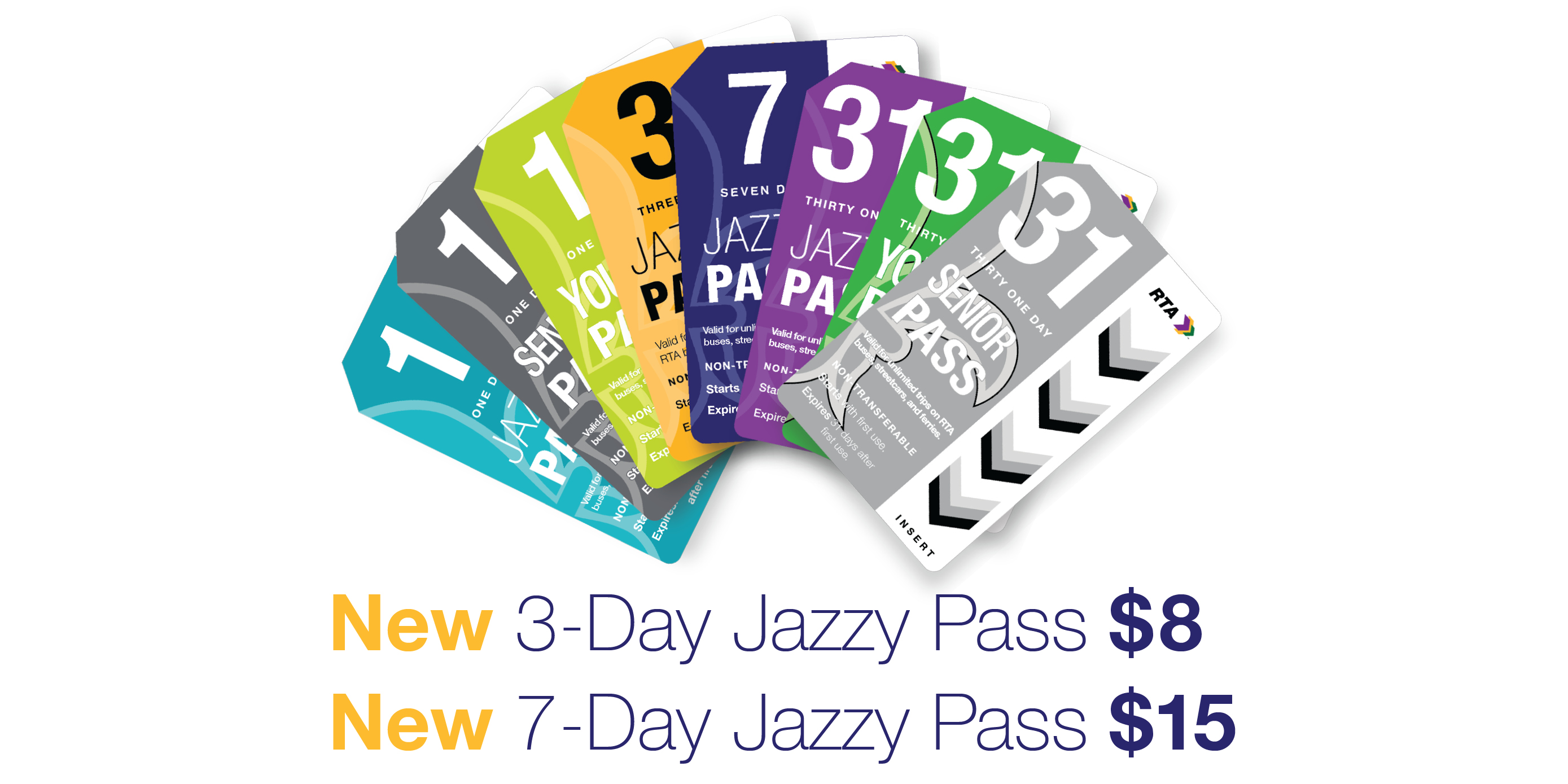 Fares are available for purchase on the GoMobile app, in person at the RTA's Canal Street facility located at 2817 Canal Street between 9 AM-5 PM, and online for delivery. Passes are also available at select metro-area Walgreens stores.


Read about the changes