New Orleans RTA recognizes NOPD transit officers for their service during August board meeting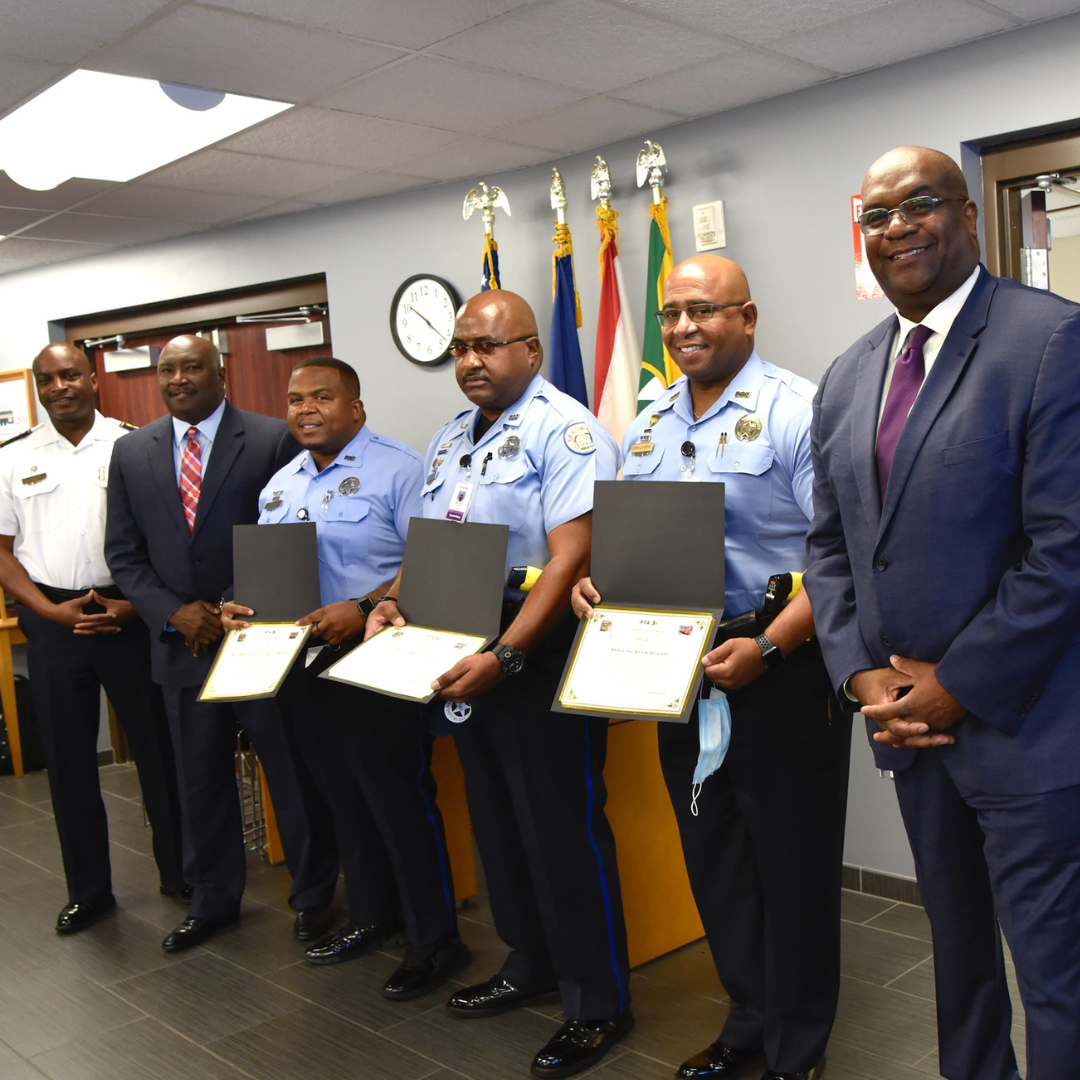 NEW ORLEANS - During today's Board of Commissioners meeting, the New Orleans Regional Transit Authority (RTA) recognized New Orleans Police Department (NOPD) officers assigned to the transit division for their hard work and dedication to ensuring transit remains safe for all riders. Sergeant Kevin Jackson, Senior Officers Kelsey Lewis and Douglas McGowan, were presented with commendations from RTA CEO, Alex Z. Wiggins, for their recent assistance in training RTA frontline staff on de-escalation tactics. NOPD officers assigned to the transit division protect RTA's assets and ensure the safety of our ridership which is vitally important to the success of the agency's overall mission.
"The RTA Board of Commissioners is thankful for the dedication of our NOPD transit officers," said Mark Raymond, Jr., RTA Board Chair. "As we continue to build transit, having the support of partners like the NOPD will ensure that transit is safe for all riders and frontline staff."
RTA's Transit Division is an extension of the NOPD and supports the agency in maintaining safe operations within the field. In addition to providing training, transit officers ride RTA's buses and streetcars, to respond promptly to incidents. The partnership with NOPD holds the common objective of protecting the transit community as RTA maintains operations contributing to making our city a better place to live, work, and play.
"More than ever, it is important for us to recognize the dedicated law enforcement guardians who keep us safe. NOPD's leadership and the officers assigned to the Regional Transit Authority are personally invested in maintaining a safe transit environment," said Alex Z. Wiggins, RTA CEO. "Their proactive efforts to prevent crime, train RTA's bus and rail operators in conflict de-escalation techniques, and the rapid response to emergencies all support the agency's goal toward improving the customer experience."
"Acknowledging the hard work of our officers is imperative as we continue the work of protecting our community," said Chief Shaun Ferguson, NOPD. "Our profession is not easy, but our officers are a great example. Thank you to the RTA for being strong partners as NOPD continues our efforts in protecting our community."
"Each day, we move thousands of residents as they head to essential destinations throughout the city," said Robert Hickman, RTA Chief Security Officer. "As we do so, it is fantastic to have the support of the NOPD and share the common goal of protecting our citizens as they ride the system."