RTA Launches 'Pause, Breathe' Mindfulness Initiative for Mental Health Awareness Month
NEW ORLEANS – Tomorrow, the first day of Mental Health Awareness Month, the New Orleans Regional Transit Authority (RTA) announces its first-ever onboard mindfulness message to remind transit operators and riders to "Pause, Breathe". This message written and recorded by New Orleans poet and healer, Sunni Patterson, is part of the RTA's public art partnership with Ashe Cultural Arts Center.
"Recognizing stress-related illness in society is on the rise as well as the toll that public service can take on employees, we hope this simple, yet powerful mindfulness message will provide the space and opportunity for our operators and riders enjoy a moment of mindfulness," said Lona Edwards Hankins, RTA CEO. "Thank you to Sunni Patterson, the 'Poet of the People' and the team at Ashé Cultural Arts Center for their partnership on this important project."
The onboard message by Sunni Patterson reads: "Let's take a moment to pause and breathe. Because we are here, present and on purpose, because we are not afterthoughts of things looking to be put off for another time. Because our health, wellness, and overall wellbeing are worthy of full expression, functioning at optimal levels. It is here we proclaim, 'I deserve it'. Where the collective 'I' comes together, unified, dignified, and aware. Empowered by one another's existence, knowing we are all deserving of every good thing this life has to offer".
The audio message on RTA buses and streetcars and complimentary visuals placed bus shelters and car cards are reminders to "Pause, breathe" which evidence shows can reduce stress, anxiety, reduce blood pressure and other stress related illnesses.
"Ashé Cultural Arts Center is excited to be a partner of the 'Pause, Breathe' Campaign and emphasizes its importance of Mental Health Awareness Month. In prioritizing the wellness of our communities through our creative programming such as I Deserve It!, a team of community health workers and artists addressing the 25 year life-expectancy disparity experienced by New Orleans' Black neighborhoods, we encourage our community to join us in the intentionality of pausing, breathing, and reflecting for our overall well-being," says Frederick "Wood" Delahoussaye, Chief Creative Officer of Ashé Cultural Arts Center.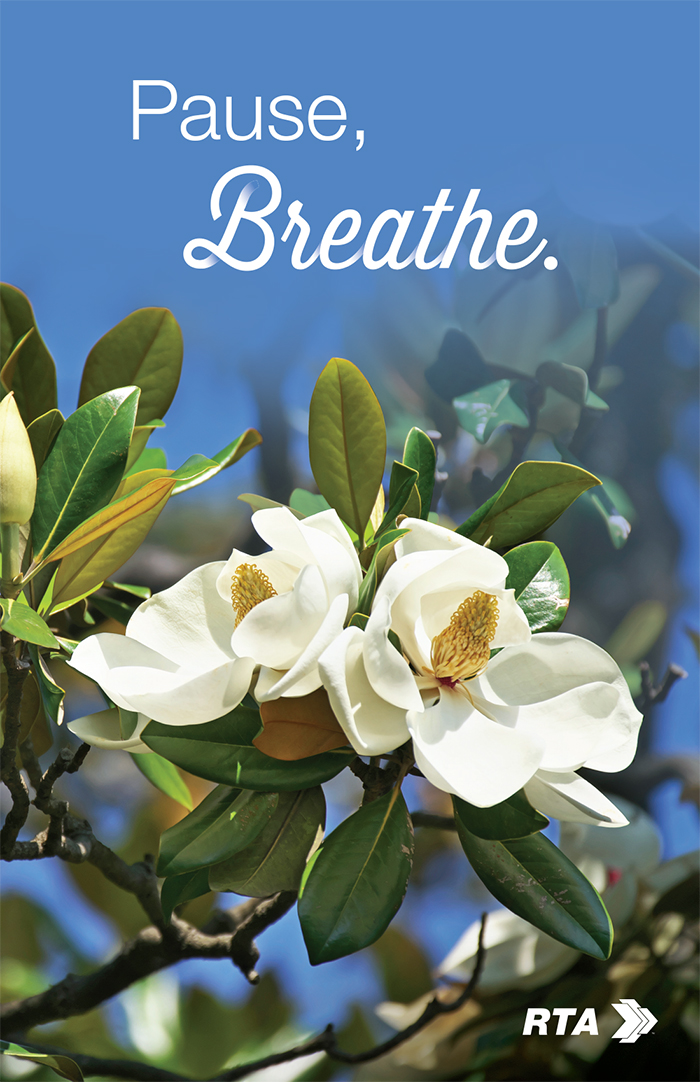 ###
The New Orleans Regional Transit Authority is a sub-division of the State of Louisiana which is operated by an independent Board of Commissioners that serves Orleans, Jefferson and St. Bernard Parishes. The agency operates car and passenger ferries, fixed-route buses, Paratransit, streetcar, and limited on-demand service.
The Ashé Cultural Arts Center's mission is to use art and culture to support human, community, and economic development. Ashé Cultural Art Center's innovative programming is designed to utilize culture in fostering human development and civic engagement. As ecosystem builders, we deliver programming and direct services that support, leverage, and celebrate the people, places, and philosophies of the African Diaspora.